I like to occasionally try and shoot this awesome park in new and different ways.  This day I was lucky with only a few people around, but the light wasn't great and it was a boring sky.  To excite things even more I had some remaining piles of old snow.. and LOTS of shadows.  I like a challenge so I took a basic exposure.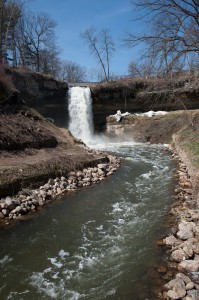 It was ok, but understandably boring with to much brown.  I wanted to drag the shutter, but didn't have a ND filter with me and the sun was way to bright.  I decided to do a basic HDR shot with 5 exposures.  I only had Photoshop CS4 at the time, so thats what I used to merge them.  The rest of the work was done in Lightroom and some Nik plug ins.
I love the way the greens popped from the water, and the reds came out of the landscape.  I went a bit far with the sky and some haloing appeared, but over all I like it a lot.